Naturalis has been awarded the EcoVadis 2022 bronze medal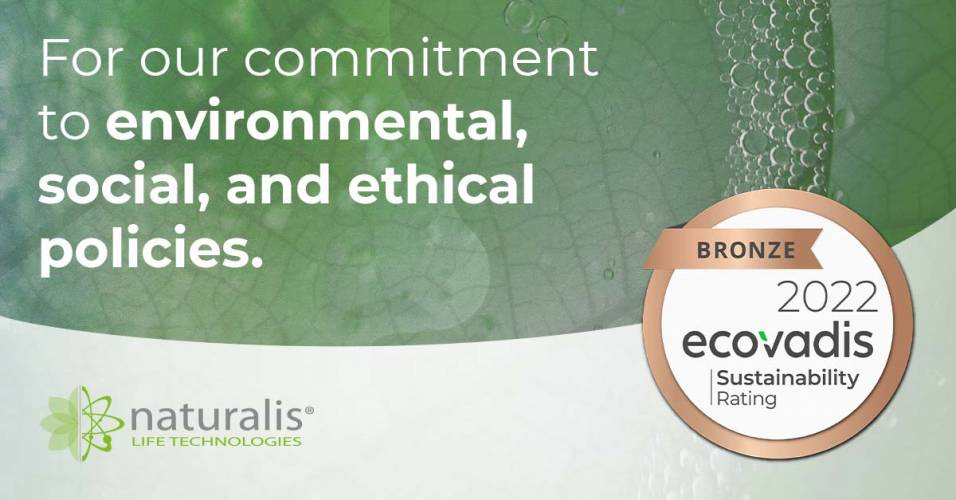 Naturalis, due to its good social, ethical, and environmental responsibility practices, was awarded a bronze medal by EcoVadis, a rating agency for environmental and social practices in the company context.
EcoVadis' rating process is designed to establish and estimate performance not only on environmental issues but also on labor, human rights, ethics, and sustainable purchasing. In addition, EcoVadis manages a platform that allows companies to monitor the sustainability performance of their suppliers to be able to assess the same standards across the entire supply chain.
The EcoVadis bronze medal is the crowning achievement of a path that Naturalis has taken since its founding in 2012, a commitment guided by a forward-looking Vision, not oriented to mere economic return, but on the contrary rooted in strong ethical principles of respect for the world around us and the people who populate it. The Major achievements in obtaining this certification, have been realized thanks to the change of production site that has allowed us to reach the Carbon Free goal in 2022. This is a modern property that is completely powered by sustainable and renewable energy, with efficiency in resources used and waste generated.
Not only public opinion, but also suppliers and customers are becoming increasingly attentive and sensitive to environmental and social issues, so much so that it is necessary for a company to guarantee and, indeed, certify its standards on the subject.
The advantage and added value that Naturalis wants to offer, through EcoVadis, is the possibility of being able to count on a reliable, attentive, and responsible partner with whom to establish a fruitful collaboration.